Category - Jazz
C viva (cellar) venue 16
130 George Street/Charlotte Square
8 Aug-26 Aug at 21:15
(1hr15)
Joana Gomila
8, 9, 10, 11 Aug
Anna Ferrer
12, 13, 14, Aug
Blai Vidal Trio
15, 16, 17 Aug
Júlia Colom & Toni Vaquer
18, 19, 20 Aug
Ermanno Panta & Banda Zeitun
21, 22, 23 Aug
Jansky
24, 25, 26 Aug
Tickets £6.50-£8.50 / concessions £4.50-£6.50 / under 18s £4.50-£6.50
Recommended 0+
The Balearics are not only sand and sun! Come and enjoy the warmth of the Mediterranean through a hand-picked selection of bandsand bask in their sound! Enjoy jazz, world music, electronica, pop and more.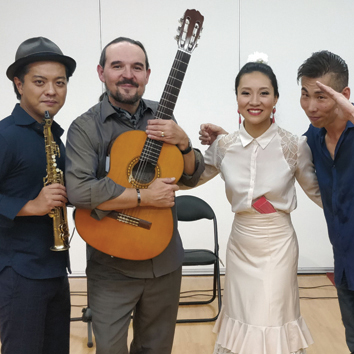 C viva (cellar) venue 16
130 George Street/Charlotte Square
3, 4, 10, 17, 24 Aug (4 Aug at 21:15; 3, 10, 17, 24 Aug at 23:00)
(1hr00)
Tickets £11.50 / concessions £9.50 / under 18s £7.50
Recommended 12+
Late-night Flamenco with a touch of jazz! The Edinburgh Festival Fringe classic: sophisticated, mellow, a five-star way to spend an evening's Fringeing! Internationally acclaimed guitarist Ricardo Garcia brings his unique blend of music and rhythm. Magic!